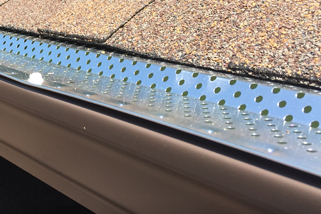 Your gutters do a lot to protect the value of your home. They keep the water from simply seeping down the side of your foundation and into basements and crawlspaces, or over your siding. Moisture from the soil can wreak havoc on your foundation's stability as well. Gutters divert the water so you can avoid all of these issues.
Seamless gutters are especially helpful because there are no leaks from the seams, which would otherwise undermine the entire purpose of your gutters. Seamless gutters go on in one piece, and have many other benefits as well. If you are considering installing seamless gutters in Cleveland, Ohio, you should be aware of the many benefits that this type of gutter system has to offer.
Less maintenance. Gutters with seams are prone to trapping debris because leaves or twigs will get stuck in a seam and then hold up traffic. This can lead to more clogging, and more instances where you need to climb a ladder to clean out your gutters.
Fits just right. Each seamless gutter is specifically tailored to your home, which means that a professional measures the length of gutter that you need and then installs it to fit perfectly to your home. There is no clumsy cutting or adding on small pieces when you use seamless gutters.
Variety of colors. Whether you want a traditional gutter or if you want something that is a little more unique, seamless gutters have a color that will fit the style of your home. View our color chart
Better investment. Although seamless gutters may cost more up front, their lack of maintenance and lower repair costs really add up in the long run. They can add value to your home in a way that a traditional gutter cannot. They will also generally last longer than more traditional gutters as well.
Better looks. Seamless gutters just look great on a home. They do not have joints and fasteners, giving them a much cleaner, most polished look. They can definitely add to the curb appeal of your home.
If you are sick of constantly cleaning out your clogged cutters, installing seamless gutters might be a good option for your home. Our professionals know just how to set up your seamless gutters in Cleveland, Ohio to make them increase water flow and look great. Give us a call at 440-742-2287 for a free estimate.